Royal Mansour luxury hotel, spa and exclusive private Riads offer an unparalleled stay in Marrakech. Of the many wonderful hotels in the heart of this scintillating city, Royal Mansour stands out for its service, which goes above and beyond, and its spectacular, interiors, which truly reflect the essence of Moroccan tradition.
The hotel's architecture, design and cuisine make guests instantly feel immersed in Moroccan heritage. Interiors are adorned with beautiful local crafts, exquisite fabrics and rich-coloured silks, and furnishings decorated using traditional techniques, such as sculpted cedar wood. Grand receptions areas include various lounges and bars, a beautiful library and three restaurants.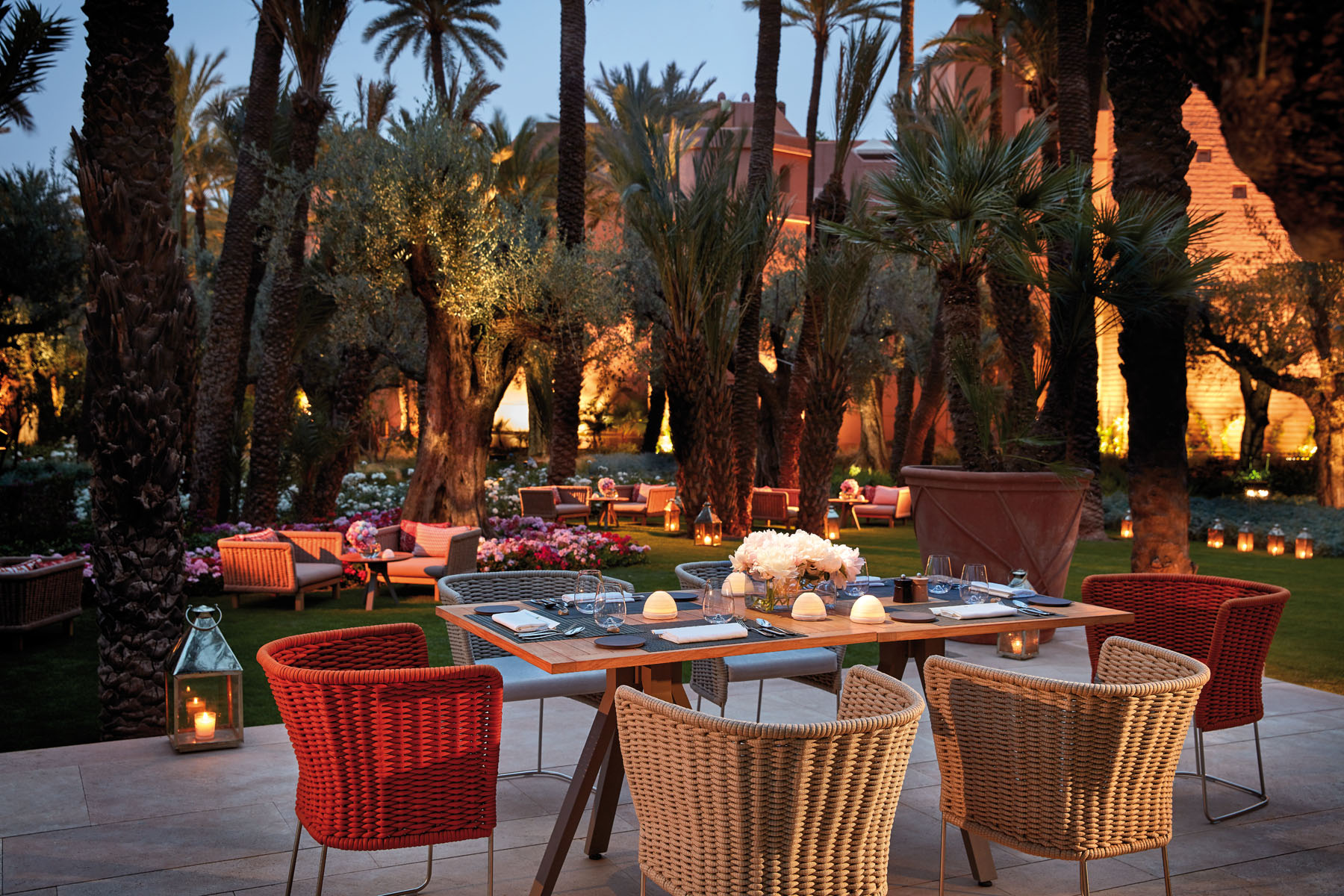 There are no rooms or suites here, only private residences (53 Riads ranging from 1-4 bedrooms), which are palatial with three floors and charming interiors. The Riads' central courtyards are surrounded by a living room, bar and dining room (for the larger Riads). Bedrooms and bathrooms are situated on the first floor, along with a plunge/swimming pool if staying in a larger Riad. Then each has a private rooftop terrace with a fireplace, providing incredible views over the city. Contact our specialists to find out which Riad works best for you, as some of the larger ones even have private steam rooms and Hammam. The roofs are rain-sensitive, closing over the courtyards automatically if needed. What I particularly love about the Riads is that with 2-bedrooms or more, you enjoy a personalised butler service so you won't have to lift a finger. One of the most spectacular design feats of the hotel is its series of underground passageways to each of the property's Riads, accessible only to staff, which ensures service is swift and discreet.
With three Michellin starred chef, Yannick Alleno, as the mastermind behind the cuisine at Royal Mansour, the offering is truly sensational and the three restaurants have become culinary destinations in themselves, boasting some of the most sought-after tables in Morocco (ask our team to make your reservation!). Expect modern cuisine with a Mediterranean influence at La Table, offering indoor, outdoor and private dining. British, French or Moroccan afternoon tea is served here every afternoon. Haute-cuisine at La Grande Table Marocaine is Alleno's unique creation, enhancing sophisticated Moroccan flavours and elaborate traditional dishes, with an innovative twist and culinary expertise.
The Royal Mansour's gardens (known as the 'Mansour Medina') are an oasis in the city – sweet-smelling flowers of every colour grow in abundance, filling the air with wonderful aromas, where a labyrinth of walkways takes you through a tropical paradise of fruit trees, water fountains and herb gardens - it is utterly enchanting. The gardens encompass the Riads and spa, creating tranquillity and shade in the heart of the city. Le Jardin, vast landscaped gardens filled with olive trees and palm groves, is another beautiful area within the property, where a large swimming pool is hidden away offering peace and quiet to guests looking to cool off from the heat. Newly built poolside pavilions can be rented for a day of relaxation, enjoying a beautifully decorated sitting room, terrace, sunbeds and lunch delivered from the restaurant.
The Royal Mansour Spa is a must-experience in Marrakech. Guests are taken on a spiritual spa journey in the most relaxing setting of the cool wellness area, with white walls, aromatic flowers, water fountains and plenty of natural light. Massages, facials, hydrotherapy and beauty therapies are among the long menu of treatments to indulge in and there are private suites where guests can enjoy balanced, healthy cuisine on their spa day. A traditional Hamman is my favourite indulgence when visiting Marrakech as it leaves you feeling completely cleansed and energised.
For families, Royal Mansour is a great option. The larger Riads have plenty of space for families and the Kids' Club, Le Jardin de Lila, provides highly qualified nursery staff along with exciting activities such as sports competitions and treasure hunts in the Medina and chocolate workshops on request.
It is the perfect hotel for a private party, and we can organise these for you, contact our team for more information.