I just returned from a heavenly trip to Lake Como. Grand Hotel Tremezzo, Passalacqua and Villa Sola Cabiati are spectacular places to stay to experience the Italian Lakes in style. Here are just a few reasons why I couldn't recommend them more highly!
Grand Hotel Tremezzo

Setting
On the western shores of Lake Como, right on the water with a private beach, the historic Grand Hotel Tremezzo sits within a breathtkaing private parkland of around 20,000sqm, filled with a variety of rare plants and trees bursting with colour, including magnolias, palm and banana trees, azaleas, tulips, geraniums, rhododendron and hydrangea, as well as over 300 olive trees in the grove. This is a place of beauty and tranquillity, with the most spectacular views overlooking the lake, Bellagio and the Grigne Mountains beyond.
Story
Towering from the water's edge on Lake Como, The Grand Hotel Tremezzo dates back to 1910, when it was built for Italy's social elite, designed to offer spectacular balls, dinners and a truly hedonistic lifestyle. Today, the glamour remains and guests are greeted with warm Italian hospitality as they are encouraged to completely relax and indulge.
Suites
At Grand Hotel Tremezzo guests can choose from a range of stunning rooms, historic suites and rooftop suites, all with period interiors, sumptuously furnished and individual in style. Each room has a special feature, whether a balcony or terrace taking in beautiful views of the Palace park or lake, or a whirlpool tub for deep relaxation.
Style
The Grand Hotel Tremezzo is an iconic building on Lake Como with its famous art nouveau façade, yet it is even more impressive inside as you explore the elegant grandeur of its halls and dining rooms, where period décor is complemented by modern luxuries. Grand Hotel Tremezzo's style is all about vivid colours, the finest materials and statement furniture, which make it such a unique destination.
Spa
Grand Hotel Tremezzo's T Spa offers a range of wellness experiences, including exclusive treatments, yoga studio, Infinity Pool, Hammam, Turkish Bath, Mediterranean steam room, sauna with lake views, emotional showers, ice fountain and a relaxation area.
Swim Time
A stay at Lake Como is all about being by the water. Grand Hotel Tremezzo has a private beach on the lake, where you can relax in loungers and enjoy the views. There are three beautiful pools, each with its own atmosphere. The WOW! (Water-On-The-Water) pool floats atop Lake Como taking in amazing scenery. FLOWERS POOL is set within the Palace park, surrounded by fragrant flowers and Riviera palms providing pockets of shade. The INFINITY POOL is connected to the hotel's T Spa overlooking the Lake – a wonderfully calming setting.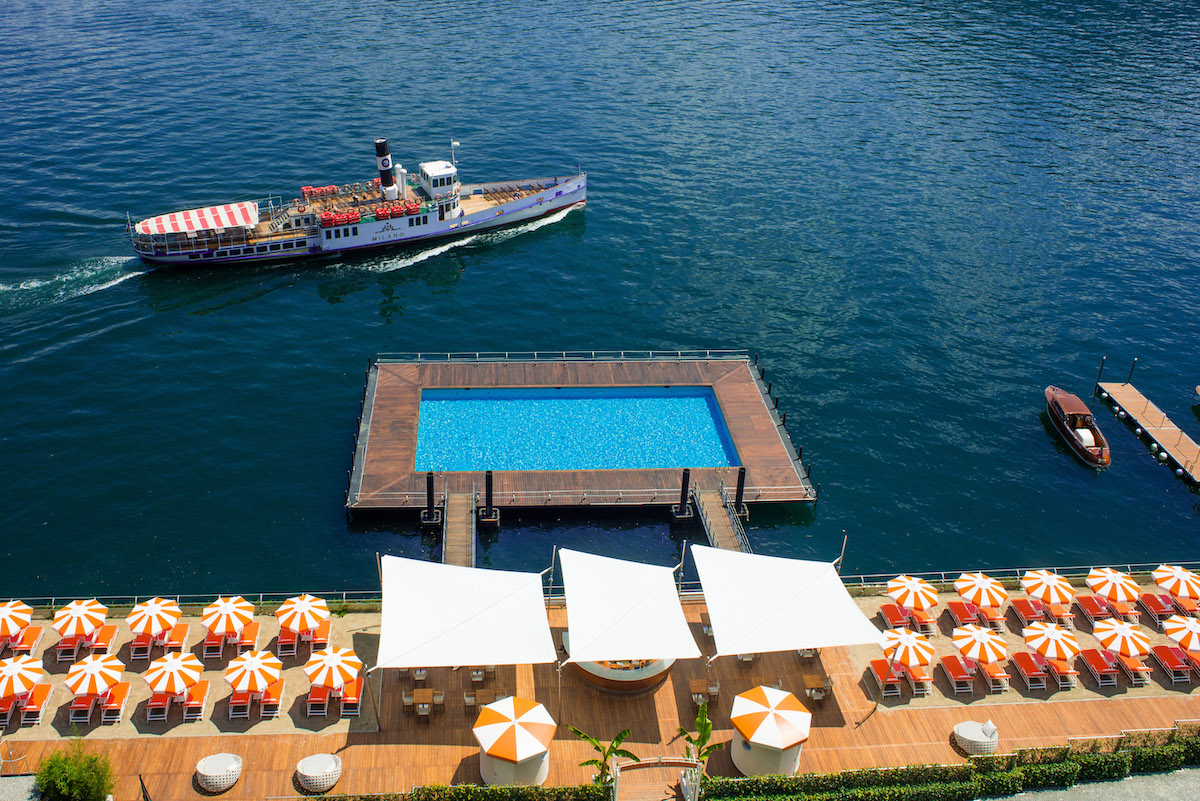 Dining
At Grand Hotel Tremezzo, food and fine dining is an incredibly important part of the experience, just as it is an integral part of Italian culture. There are five bars and restaurants to enjoy during your stay: La Terrazza Gualtiero Marchesi – This beautiful fine dining restaurant celebrates the legacy of Chef Gualtiero Marchesi's, serving his signature dishes and offering dishes inspired by his cooking style. Meals are served on an elegant lakeside terrace with breathtaking views. L'Escale Trattoria and Wine Bar – The perfect place to indulge in delicious wines, this bar is a true celebration of the traditional Italian trattoria and enoteca. The sommelier will help you choose from a cellar of over 1,300 Italian wines to enjoy with local dishes out on the veranda. Giacomo al Lago – For a lakeside lunch or dinner, Giacomo al Lago is the ultimate indulgence, the best fish and seafood recipes of legendary Giacomo Milano, paired with a curated list of fine wines. T Bar – Set on a terrace by the lake, with classic interiors and a warm atmosphere, T Bar is the perfect spot for an aperitivo. Expert mixologists create delicious cocktails which you can enjoy with a gorgeous view at sunset. T Pizza – By the Flower Pool within the Palace gardens, T Pizza serves authentic Italian pizzas throughout the day using the freshest ingredients. Private Dining – We can arrange private romantic dinners in a variety stunning locations at Grand Hotel Tremezzo: inside the Palace, in your own suite, in the Park gardens, or at The Villa's Sala degli Stucchi.
Exploring
From Grand Hotel Tremezzo there are many ways to explore the beauty of Lake Como. The hotel has two beautiful boats – Ruy and Batt – which can be hired for a private journey on the lake. We can also arrange ferry rides, motorboat hire and seaplane adventures. There is tennis in the park, a number of footpaths leading to panoramic view-points, watersports such as waterskiing, windsurfing, kitesurfing and canoeing, bike rental, cooking, painting and photography classes, vineyard tours and wine tastings. We can arrange for private guides and chauffeurs to take you to beautiful lakeside villages, villas and nearby lakes to see the best of the region. The hotel is also only an hour's drive from Milan.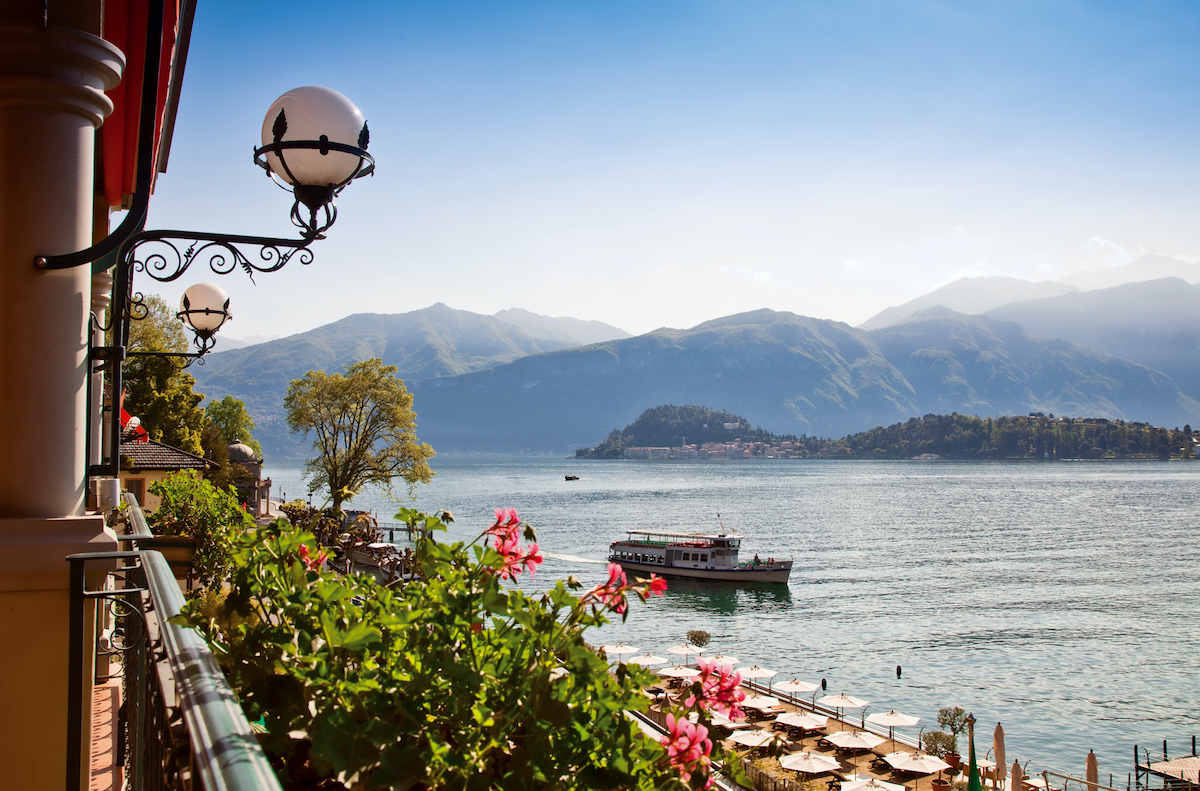 Passalacqua
Setting
Located by the historic town of Moltrasio, Passalacqua is immersed in seven acres of landscapes gardens leading to its own private jetty on the lake. From here you have the wonders of Como on your doorstep. We can arrange boat trips to Bellagio, Villa del Balbaniello, Varenna and Como, taking in the region's stunning gardens, historic villas, medieval villages, cathedral and Opera House.
Story
The former home of aristocrats, Passalacqua was built in the 18th Century from the enlargement of a property once owned by Pope Innocent XI. It became the opulent retreat of Count Andrea Lucini-Passalacqua on the shores of Lake Como. In 2018, the De Santis family, owners of Grand Hotel Tremezzo, acquired Villa Passalacqua and, after a three-year restoration project, have opened its doors to guests.
Suites
24 guest rooms, each individually appointed, are dotted amongst three buildings: Villa, Palazz and Casa al Lago. Villa, in the heart of the gardens, houses 12 elegant rooms and suites. Behind the Villa, the Palazz features 8 rooms that have been beautifully decorated with special antiques. Then, by the water, Casa al Lago's 4 rooms enjoy the most serene up-close views of Lake Como.
Style
Passalacqua is a feast for the eyes; throughout the villa, from the bar to the library and frescoed dining rooms, every detail is remarkable and a true example of Italian craftsmanship. Passalacqua features more than twenty varieties of precious marble, Venetian terrazzo flooring, Fortuny lampshades, sumptuous silks, expert stuccowork, Murano candelabras, sconces and mirrors; and an extraordinary collection of artwork and antiques.
Sundowners
Treat yourself to classic Italian aperitivos during your stay. The most traditional cocktail in Como is the Negroni, but there is plenty to choose from, and drinks can be enjoyed in the bar, or out on the terrace or by the pool – the ultimate sundowner-spot!
Swim Time
Passalacqua's swimming pool is utterly picturesque, set on a garden terrace beneath the Villa, bordered by climbing roses and stripey parasols to snooze under. The pool enjoys beautiful views of the lake and there is a former greenhouse here that has been transformed into an all-day pool bar, Double J.
Exploring
Days at Passalacqua can be spent relaxing by the pool, strolling through the gardens, taking boat trips, learning to make pasta with Chef di Casa Alessandro Rinaldi, and enjoying gourmet meals al fresco. Boat trips aboard the vintage wooden launch, Giumello, or Didi are the perfect way to explore the beautifes of Lake Como.
Villa Sola Cabiati
The Grand Hotel Tremezzo's luxurious private residence, Villa Sola Cabiati, sleeps 12 guests in 6 stunning suites. Located on Lake Como just a few minutes from the main hotel, this exclusive villa is truly spectacular, set within idyllic Italian gardens and with a heated outdoor pool. The interiors are magnificent – the villa is famous for its stuccoes and fescoes – and whilst it was built in the 16th Century, it was renovated by the Dukes of Serbelloni in the 18th Century. Each suite has a spacious bedroom, ensuite bathroom, unique décor and breathtaking views. Guests are looked after by a dedicated team of staff including Villa Manager, butler, chamber maid and housekeeper. Food here is exquisite, from breakfasts in the garden to poolside BBQs and candlelit dinners in the Sala degli Stucchi.
Get in touch to start planning your trip to Italy >