Four Seasons Mexico City is located on the Paseo de la Reforma, excellently positioned for a stroll through Chapultepec Park, or for popping into the cafés, bars and shops of Condesa and Polanco.
I would always try to include some time in Mexico City, an extraordinary, colourful, historic jewel and culture hub – the perfect starting point for a Mexican adventure. Every neighbourhood in the city has its own character, and the city is renowned for its exceptional gastronomy scene, ranging from mouth-watering street food markets to spectacular haute-cuisine restaurants that draw in foodies from across the globe.
Wander through vibrant neighbourhoods, marvel at the unique style of the city, and discover layer upon layer of history in its varied architecture, or delve into the many museums and galleries in the city-centre.
In Mexico City, there are a handful of luxury hotels that I recommend from personal experience, such as the internationally acclaimed Four Seasons, or smaller boutique hotels, such as Las Alcobas, where you can base yourself in the city, returning to a beautiful, luxurious and comfortable home from home at the end of each day's explorations.
The Four Seasons, which its grand, ornate exterior, set in the heart of the capital, is an inspiring setting to begin an exploration of Mexico City. I love the interiors, especially the stunning marble floors and swirling marble staircase.
The rooms are luxuriously decorated and feel fresh and bright, decorated with soft white and earth tones that contrast dark wood furniture, plump white pillows, crisp luxury linens, king beds, soft rugs, beautiful artwork and marble bathrooms.
Room categories start at Deluxe, which are comfortable and spacious, with large ornate windows that letin plenty of natural light. Premier Rooms have private balconies overlooking the courtyard through double French doors, or Premier Terrace Rooms on the second floor have beautiful private terraces, furnished with a table and armchairs overlooking the leafy courtyard – wonderful for breakfast al fresco.
The One bedroom suites, featuring a dining table, work well for a family of 3 in need of a little extra space. For those looking to really push the boat, book the Grosvenor Suite, with ample living space, stunning luxury interiors, a dining area for 8 guests, and views of the famous Paseo de la Reforma.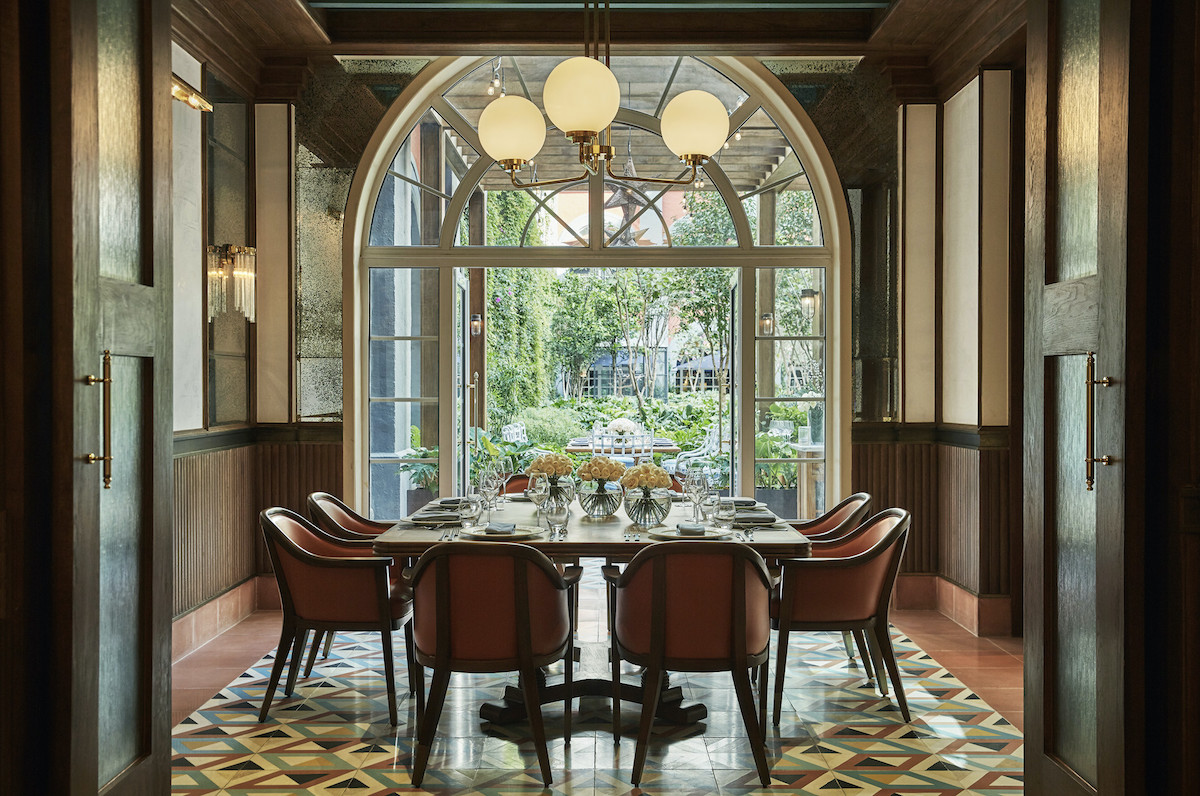 My favourite aspect to the Four Seasons Hotel Mexico City is its vast inner courtyard, a tranquil oasis full of tropical plants and fruit trees, encircled by an arched colonnade, and with a fountain in the centre, where guests dine beneath parasols. The hotel has a definite hacienda-style, which makes it feel even more spoiling as an urban retreat.
In the evenings, firepits are lit in the courtyard, signature cocktails are shaken up at Fifty Mils, a stylish, welcoming bar with a collection of fine tequilas and Mezcales, and you're spoilt for choice with sophisticated Italian cuisine at Il Becco Restaurant, or Mexican cuisine at Zanaya, a colourful, chic restaurant that spills out onto the courtyard.
Zanaya is the creation of Chef Emiliano Rabia, whose 'rod to fork' concept takes fresh Pacific Coast seafood and spices to produce delectable dishes that are authentically Mexican. Don't miss the Zanaya Champagne Sunday Brunch!
The Four Seasons also has an in-house bakery, Pan Dulce, which serves fresh Mexican and French pastries alongside delicious coffee, either out in the courtyard, or to take-away for your wanders through the city.
After a long international flight to reach Mexico City, there is nothing better for settling into the new time zone and climate than indulging in a relaxing spa treatment. The Four Seasons Health Club is a haven of wellbeing, with a swimming pool and whirlpool, fitness centre, and a team of expert spa therapists offering massages and facials (massages can also be enjoyed in your room for complete privacy and relaxation). There's also a gorgeous rooftop swimming pool and sundeck, for those keen to have some time to relax before venturing out to sight-see.
There is so much to see and do in Mexico city. We arrange privately guided excursions for our clients, led by experts in history, art, architecture etc., entirely based on your interests. Get in touch to find out more. For families, the Four Seasons is a fantastic option – they provide a brilliant babysitting service, evening milk and cookies for the little ones, and the superb concierge can design family-friendly activities, paced to your needs and interests.