I have deep admiration for the couple that dreamt up the Soneva properties and experiences, and for the exceptional eco-travel offering that they have created through pure vision and passion in both the Maldives and Thailand.
In 1995, Sonu and Eva Shivdasani built Soneva Fushi on Kunfunadhoo, a stunning deserted island in the Maldives, where their aim was to carry out an environmentally responsible and conscious lifestyle. Soneva Fushi has evolved into a stunning castaway 'resort' with a sustainable ethos, where guests stay in luxurious, locally crafted villas, with time and space to become connected to nature and enjoy world-class experiences and service within a stunning natural paradise.
Whilst the Soneva Resorts collection has grown, the idea behind them has remained the same. Each property is inspired by nature, and designed to both protect and celebrate beautiful natural surroundings.
Experiences at each Soneva Resort are entirely bespoke, ensuring that guests are able to discover the wonders of the setting with a philosophy of 'intelligent luxury', disconnecting you from the outside world and encouraging you to embrace the rare opportunity of having peace, space, and time to reconnect with the natural world and yourself. Personal hosts and guides take care of your every need, creating everlasting memories for you and your family as you enjoy a slower pace of life, clean air, plenty of time outdoors, and spectacular fresh local food.
Soneva Fushi, Kunfunadhoo, Maldives
Soneva Fushi is a private island paradise where dense jungle spills onto pristine beaches surrounded by crystal clear waters. Guests sleep in luxury sunset or sunrise villas with up to 9 bedrooms, enjoying uninterrupted sea views and the complete tranquility of a remote Indian Ocean island.
Days are spent exploring the house reefs with a snorkel and mask, taking boat rides to spot dolphins, snoozing in a hammocks slung between sturdy palm trees, and enjoying treatments in the Six Senses Spa.
Guests can take diving and free-diving courses, and enjoy complimentary watersports. There is an observatory for stargazing which is just magical in this part of the world.
A must is joining one of the Cinema Paradiso movie nights on beach loungers, where you're spoilt with an ice cream parlour, delicious popcorn and specially made cocktails.
A particularly special experience at Soneva Fushi is camping in a luxury Bedouin-style tent with the comfiest bed on a private sandbank, beautifully lit by lanterns and the stars, with breakfast delivered to you the following morning.
The villas are all very private, rustic-chic in style, and offer varying features, such as water slides, private pools, spa facilities, gym facilities, wine cellars, day beds, beautiful dining spaces, spacious living areas, shaded pool decks, outdoor bathrooms and stargazing decks. Get in touch to find out which villa will best suit you.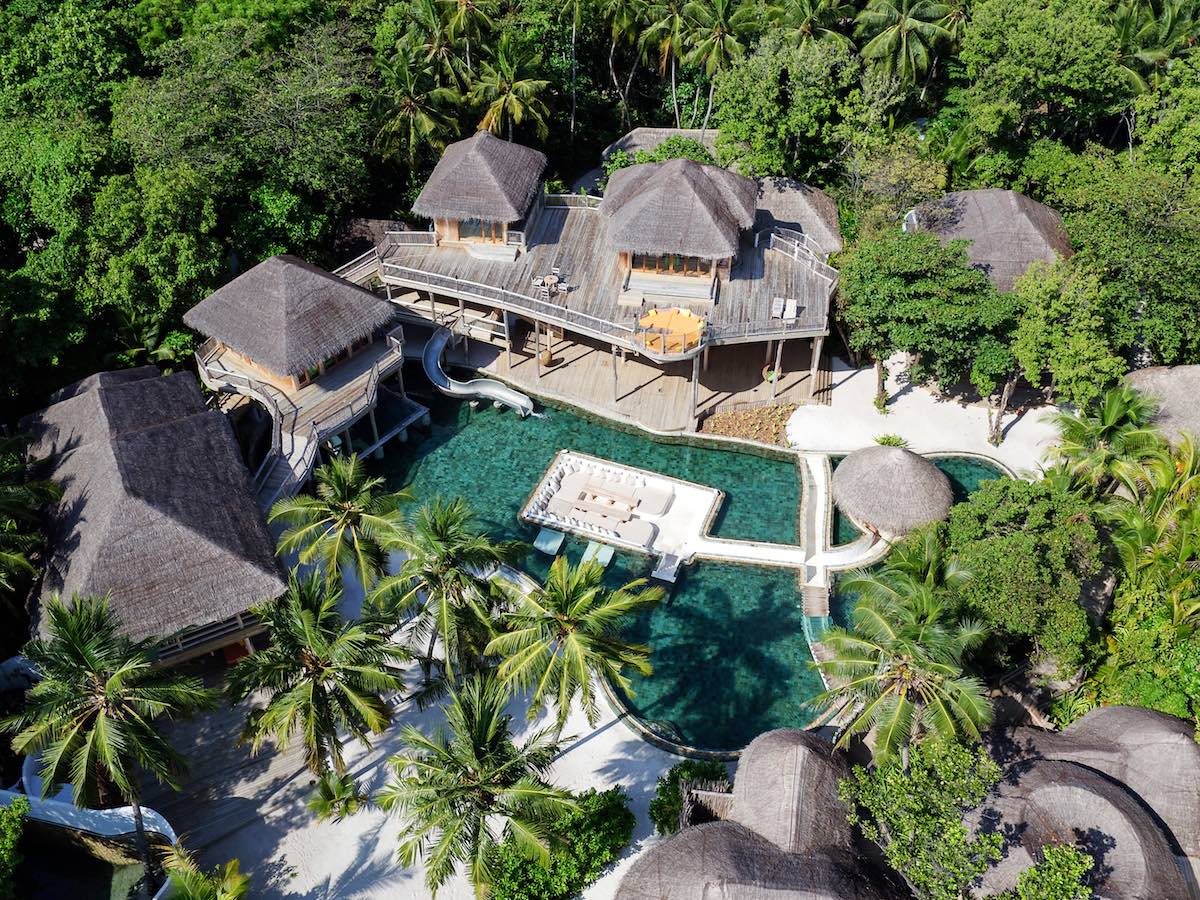 The One-bedroom water retreat is a particularly romantic and private option, with a beautiful spacious deck overlooking an infinity pool and the bright blue waters all around. I love the outdoor showers as they are completely private, but open-air and give such a sense of freedom.
Soneva Kiri, Koh Kood, Thailand
Soneva Kiris is an eco-friendly luxury island hideaway set in a tropical rainforest, surrounded by beautiful beaches. Accommodation ranges from 1-6 bedroom pool villas.
Some villas are located on the beach, whereas others are higher up on the cliff to enjoy even more privacy within the trees and expansive sea views.
The villas are truly stunning and blend beautifully into the jungle, providing generous living spaces, with private pools. Some villas come with treehouses for magical dinners or star-gazing, and others come with their own spa areas and steam rooms.
Along with relaxing on pristine white sand beaches, guests can snorkel and dive, enjoy cooking classes, visit a local fishing village and local restaurants on beautiful boat trips, and enjoy complimentary watersports.
Soneva Kiri's Cinema Paradiso in set in an extraordinary jungle auditorium overlooking a lagoon.
For families, the Den and Eco-Den are incredible, offering meaningful and fun learning experiences for children.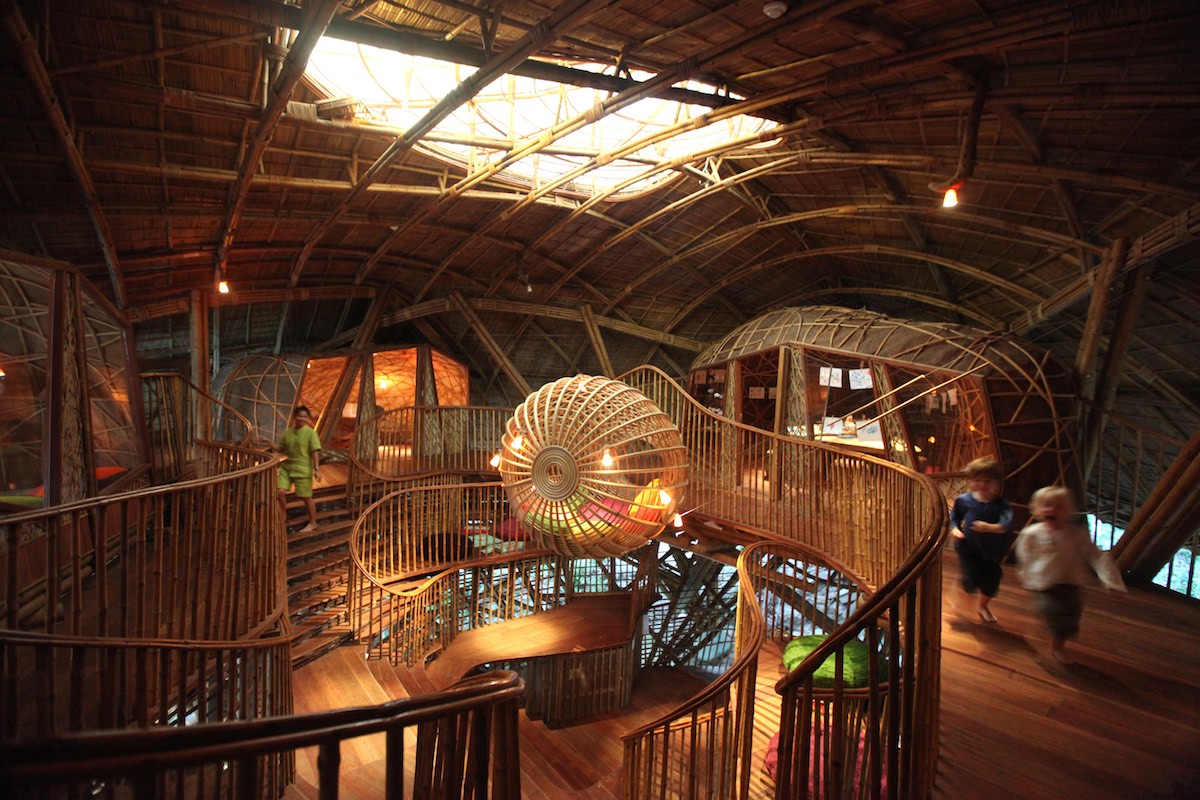 After a day in the sunshine, treat yourself to a relaxing mud massage or deep-cleansing facial in the Six Senses Spa.
Soneva Jani, Noonu Atoll, Maldives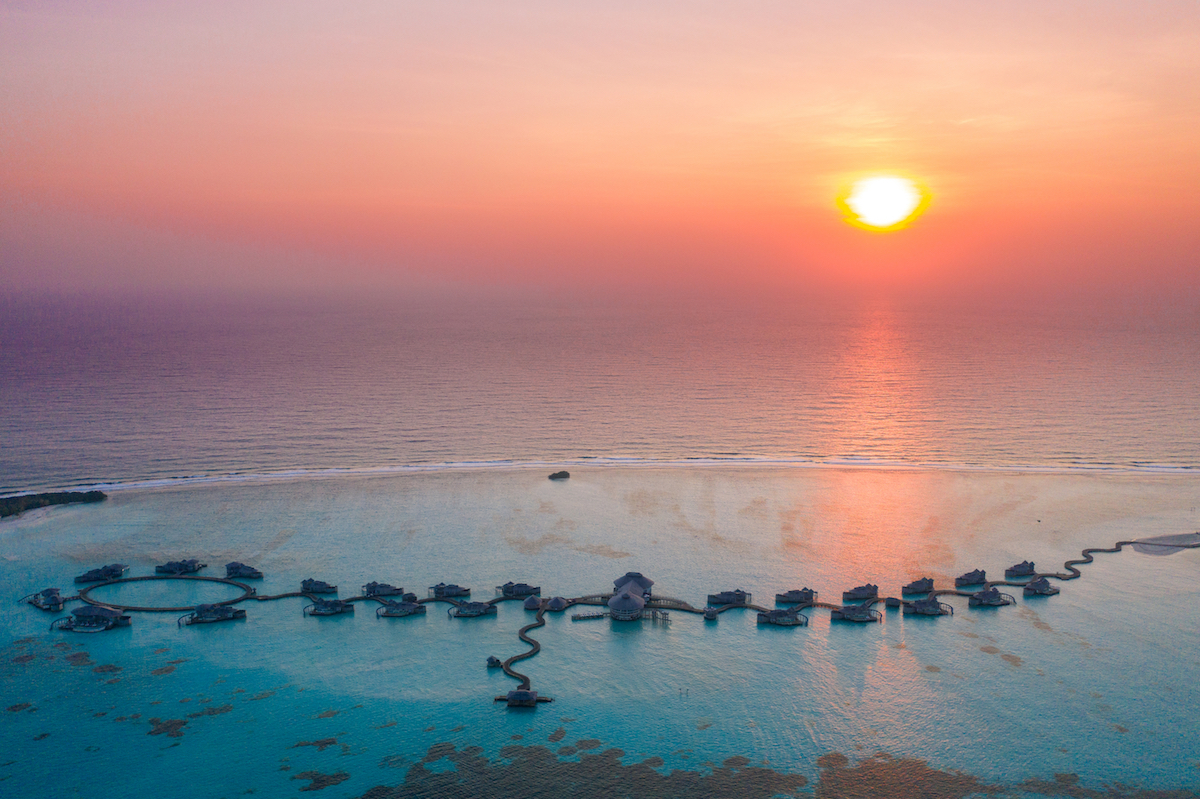 Built around a stunning lagoon, Soneva Jani is made up of 2 island villas and 24 overwater villas.
Each luxury villa is a private, spacious cocoon, with white-washed, contemporary interiors, and a retractable thatch roof that lets in plenty of light to give the villas a bright and airy feel, and allow for amazing stargazing at night. Guests enjoy endless views across the ocean, into which they can plunge via their very own waterslide to cool off in the midday sun.
Wooden walkways connect the overwater villas to the mainland. For families, there are 3 and 4-bedroom options both over the water and on the island: sprawling villas that are beautifully positioned on the beachfront. Every guest enjoys a 'Mr/Ms Friday' (personal butler service) and an entirely bespoke experience.
There is so much to enjoy here: non-motorised watersports; paddle-boarding, canoeing, catamaran sailing and snorkelling.
Other activities include sailing to sunset cocktails on a deserted sandbank, beach yoga, dolphin cruises, spa treatments, surfing and diving lessons.
Soneva Jani offers incredibly romantic experiences, such as intimate beach dinners with private chef-service, and movie nights at Cinema Paradiso.
A particularly fascinating experience is spending time with a resident marine biologist to learn about conservation efforts in the region.
Soneva in Aqua - exclusive yachting experience in the Maldives
Explore the Indian Ocean aboard an elegant 23-metre luxury yacht, with two spacious bedrooms, each with a glass-bottomed spa bath. This stunning yacht comes with an exceptional crew that includes a Captain, sous-chef, 'Mr Friday' and a wellness therapist for in-cabin massages and treatments. We can arrange for expert astronomers, dive instructors, special chefs etc. to be added to the crew. Enjoy a spacious sun deck with a dining area, bar and jacuzzi, with comfortable daybeds for soaking up the sun. There are endless ways to enjoy the Indian Ocean, snorkelling and diving to spot turtles, dolphins and coral reefs, Itineraries are all tailored to your own interests and can be week-long adventures or just a day or night out on the water enjoying the luxurious service and stunning surroundings.
Exclusive Interview with Sonu Shivdasani
We interviewed Sonu Shivdasani, founder and owner of Soneva Resorts, to find out what luxury he never travels without, the most memorable travel experience he has ever had and his ultimate travel mantra. Take a look >