HSM Gassten was built as a minesweeping warship and launched by the Swedish navy in 1973. A beautiful, unique vessel, steeped in naval history and the last of her kind, HMS Gassten has been converted into a luxurious exclusive-use 5-cabin live-aboard steamer, which can be taken on a private charter basis for adventurous expeditions through the pristine western fjords of Norway.
For those dreaming of off-grid adventures immersed in nature, a journey aboard HMS Gassten is the perfect match. Days are spent exploring the great outdoors without another soul around. Each bespoke journey is entirely flexible, with the route and itinerary adjusted according to guests' interests, with voyages lasting from three days to three weeks.
HMS Gassten explores the Norwegian fjords year-round, where adventure opportunities vary throughout the seasons. The scenery is spectacular; deep fjords, granite peaks, snow-capped summits, dense forests, pristine valleys and sheer waterfalls, offering endless hiking, climbing and cycling opportunities.
In winter, Captain Sven Steward takes guests wild skiing over some of the finest terrain in the world – there are no lifts or helicopters here, so it's skinning all the way up and enjoying having the mountains all to yourself. There's also a chance of seeing the northern lights.
During the summer season (June – Sept), days are spent kayaking, wild swimming, stand-up paddle-boarding, mooring up to a floating sauna and then jumping off the jetty for a refreshing dip in the Baltic Sea.
This is heaven for cyclists, who will love biking along scenic single tracks through ancient forests and going above the treeline for endless views. Whilst some areas in the fjords are quite well known, Sunmore Alps is still very undiscovered, promising breathtaking views and complete solitude.
This sleek-lined blue and white tugboat steams peacefully through the fjords, her classic features blending into the landscape without detracting from the magnificent scenery. Cruise ships are forbidden in the area, and HMS Gassten's size means she can easily navigate the far reaches of the fjords where few others travel.
She has endless character and style and many original features have been beautifully maintained, whilst the impressive refit has ensured she is luxurious and comfortable. She is constructed from a steel and aluminium frame, with an oak hull, which was essential to avoid detonating mines. You can still see a mountain plate that once held a large-calibre gun, and the crew will share stories from her 26 years patrolling the Baltic Sea and Gulf of Bothnia.
The wheel house has been modernised to include all the latest electronics for maritime passage. Guests are welcome to learn about navigating the fjords and are encouraged to chat with the crew and get involved with navigation, mooring etc. as much or as little as they like.
Five cabins (3 doubles & 2 twins) sleep up to 10 guests, each with plump mattresses in oak frames, ensuite wet-rooms, plenty of storage and individual radiators for temperature control.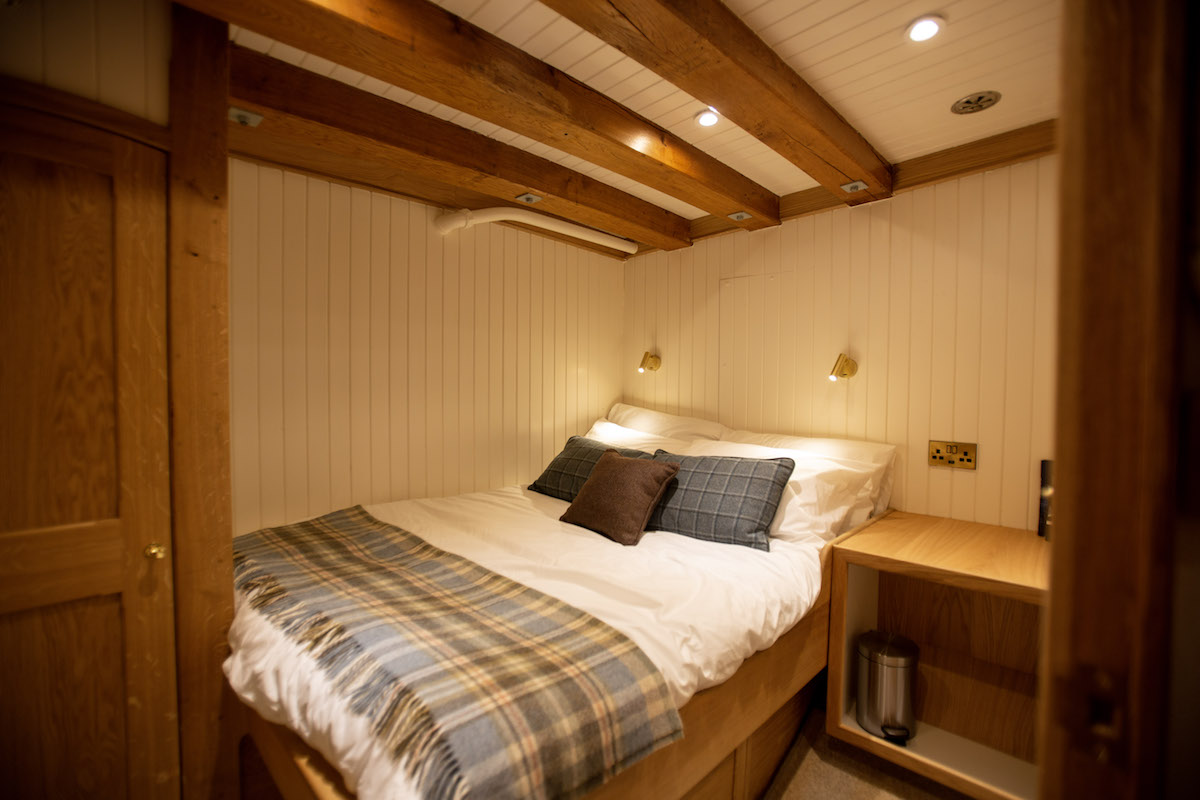 A spacious deck-level saloon with panoramic windows is the heart of the ship, where guests gathers to enjoy meals, share stories, relax, play cards and board games, have a drink and watch the world go by. The atmosphere here is cosy and classically 'Hygge'; paired-back style, warm and inviting, with simple décor including sheep and reindeer skins and candlelight to complement exposed oak roof beams, white painted wood panelling and original pine flooring.
Expect warm hospitality from a crew of four, including a skipper, chef, first mate and guide. We can bring in expert guides and kit for specific interests.
Meals are hearty and delicious. Big breakfasts of fresh local breads, cheeses and preserves and cooked breakfasts are served at the oak dining table in the saloon. Lunch is often a substantial picnic served out in the mountains, or a BBQ in a mountainside hut. Three-course dinners with house-wines and local beers are enjoyed in the saloon. A highlight of the trip is experiencing a traditional Viking BBQ in a long hut in Hjorundfjord, feasting on delicious meat grilled over an open fire with a stunning view across the fjords. Lobster pots are slung off the side of the boat each day for catching lobster or crabs, and guests can try their hand at fishing.
How to get there: British Airways operates daily flights from London Heathrow to Oslo (approx. 2h15m). Fly from Oslo to either Molde, Alesund or Orsta (approx. 1hr), followed by a half-hour road transfer to reach the boat. We can alternatively arrange private helicopter transfers or private jet access.
N.B. This is a wonderful adventure for families of 8-years plus.
Get in touch to plan your journey through the Norwegian Fjords >