We interviewed Sonu Shivdasani, founder and owner of Soneva Resorts, to find out what luxury he never travels without, the most memorable travel experience he has ever had and his ultimate travel mantra...
Brand of luggage and why?
I never buy a suitcase as they always break within a couple of months and Eva finds replacements.
What luxury do you never travel without?
Plenty of reading material, an iPad to download and watch some great films, and various drawings of our future and current projects.
Three must haves in your carry on?
1. A baseball cap and a powerful magnet with 2 parts that can be placed on either side of the cap. It should be worn 10 minutes before landing and 10 minutes after landing – it helps prevent jetlag.
2. A t-shirt for working out.
3. My 5 HTP tablets – these help stimulate serotonin which is useful while travelling.
Favourite airline and why?
Today, the best airline in the world in my opinion is certainly Qatar Airways. Singapore Airlines used to be favourite airline in the past. I would fly inconvenient routes just to ensure that I flew with Singapore Airlines and the feeling when I checked in and was about to board the plane was a bit like the feeling I had when I was at prep school and it was time to be picked up to go home. This feeling was always very strong after a trip to the Americas (the airlines in the US are hell!). Over the last two years I have been disappointed by my Singapore Airlines flights, it is no longer the best airline in the world and my last two flights with them did not live up to expectations. So in my opinion, Qatar Airways is of another league and I now have a similar feeling when I walk on to a Qatar Airways flight as I used to when boarding Singapore Airlines.
What shoes do you travel in?
I always carry a pair of FiveFingers shoes from Vibram and a pair of black shoes in my suitcase.
What's on your travel reading list at the moment?
I am now reading Champions by Alasdair Campbell. When I was at Oxford my English tutor took me to Blackwell's the book shop and brought me the collection of Shakespeare's plays. I can re-read Shakespeare's plays for a fourth or fifth time and still enjoy them.
Favourite hotel in the world, apart from your own?
I have a few favourites. In Singapore, I enjoy staying at the Ritz Carlton. The Peninsula in Hong Kong is a truly great hotel. Sir Michael Kadoorie is an old family friend. He is passionate about the details of his hotel and especially the technology. It must be the hotel with the most user-friendly technology ever. Many years ago The Peninsula invented the technology details that we now start to see in modern phones like the fact that the music stops when one speaks on the phone etc. Peter Borer is an accomplished hotelier with amazing attention to detail. They make a great team.
Top city escapes and any insider tips?
Eva and I love Florence and our two favourites hotels there are the Lugana and Villa San Michele. I love how the service team in classic Italian restaurants dress in elegant white jackets. I still remember a lovely lunch that Eva and I had on the terrace of Villa San Michele looking down on Florence on a hazy sunny afternoon with a very nice vintage of Sassicaia in our hands. In the winter, I enjoy skiing in the Dolomites. I love the area because the mountains are very steep and dramatic. They are awe-inspiring. Also, their angle is so steep that the north facing slopes rarely receive much sun. So, even if it has not snowed fresh powder for 5 or 6 days, one can still find some great off-piste on the north slopes.
Favourite restaurant from your travels?
I am fortunate enough to have been at so many great restaurants; during Six Senses days we organised a dine around and took our top chefs to El Bulli - that was a wonderful experience, but a little too extreme and definitely a one-off. Not something that I dream about repeating. That said, Ferran Adria has influenced so many Spanish restaurateurs and there are so many great restaurants in Catalonia and San Sebastian inspired by Adria's creativity which are an incredible feast. Some of my memorable ones are Arzak, Mugaritz in San Sebestain; Quique Dacosta in Denia, Disfrutar in Barcelona, El Cellar de Can Roca, the restaurant of the former Santi Santamaria, Angel Leon at the Long Table at the Mandarin Oriental Barcelona, I could go on, there are just so many great restaurants there. Eva and I would really like to visit Budapest and St. Petersburg soon. We had a lovely trip in the Commodo Islands, east of Bali on a charming all white boat, named Alexa, that just had one cabin and a crew of six. Alexa spends the summers amongst the Commodo Islands and the winters in Raja Amphat. We would love to cruise there. It looks so beautiful in the photos.
Best purchase made abroad?
I hate shopping. In fact, most of what I wear is either selected by Eva or made for me. We spend a lot of our life in the tropics, either at Soneva Fushi which is our home or our other resorts. The underpants are made from old bed sheets, the cotton shorts and linen shirts are made by the same tailors that make our hosts uniforms. I have not shopped in ages but I have accumulated gifts over the years that I like so, even in the winter most of the things I wear are what I have had for many years, either from shopping in the past or gifts from Eva and friends and family.
What do you think is the best quality in a travel companion?
For me my best travel companion is my wife Eva.
Funniest travelling experience or most memorable journey you've ever had?
Being of Indian origin, I'm quite spiritual. My wife Eva and I believe in past lives and future lives. We were both moved when we first set foot in the Maldives and we felt that we had been there together before. That said, it is a unique environment and I was speechless the first time I put on a mask and went for a swim in the lagoons. I still have that feeling when I spend time at my home in Kunfunadhoo Island in the Baa Atoll.
Being a hotelier, what have you learnt over the last few months?
Today when we are experiencing a crisis, I can say that I have been fortunate enough to have experienced many crises. The Chinese word for crisis is two characters "danger" and "opportunity". Over the years, I have come to understand these words of Lao Tzu. I have come to realize that these crises are opportunities to learn, grow and develop. I have realized that if one considers a crisis in a positive way, one can always find an opportunity to learn and develop, and make one's life more enriching as a result of the crisis. It has been a difficult time with a lot of change and uncertainty. We are nonetheless managing, because we are both the owner and operator of our hotels. We are more flexible and able to adapt quickly. There have been many learnings from this crisis for us. One of them, for example, is that; the spots of the leopard are revealed during a crisis. Crises bring out the best in people, as well as the worst.
Which Soneva hotel is best suited to families?
Soneva Fushi is very family friendly. Lifelong family memories are made here. Snorkel together in search of angelfish and turtles, cruise to the sandbank or a deserted island for a picnic under the sun, watch family friendly films on our outdoor screen with pizza and popcorn.
While away hours over classic board games or more energetic ones completing island treasure hunts. Watch for dolphins on our traditional dhoni and before bedtime let our Soneva Fushi hosts share stargazing secrets, tales of ancient seafarers or create magical outdoor jungle sleepovers. Our young guests are of utmost importance and this is reflected in the exciting, new dedicated children's Den – a veritable wonderland and treasure trove of SLOW LIFE activities.
The Den at Soneva Fushi is the first of its kind to be built in the Maldives. The project is designed to be a playground for the imagination with lots of creative and fun activities for the whole family. The Den has lots of outdoor attractions around the building, such as two pools (a big pool with slide and a nemo-shaped toddler's pool), a pirate ship, and a Lego room. Over 50% of our business comes from repeat guests. Some of them have been coming to us for 17 years. They've had children, and all those children have grown up with each other, meeting for holidays year on year at Soneva. Soneva Jani and Soneva Kiri will be always suitable for families and couples. We're catering for every age and every dream.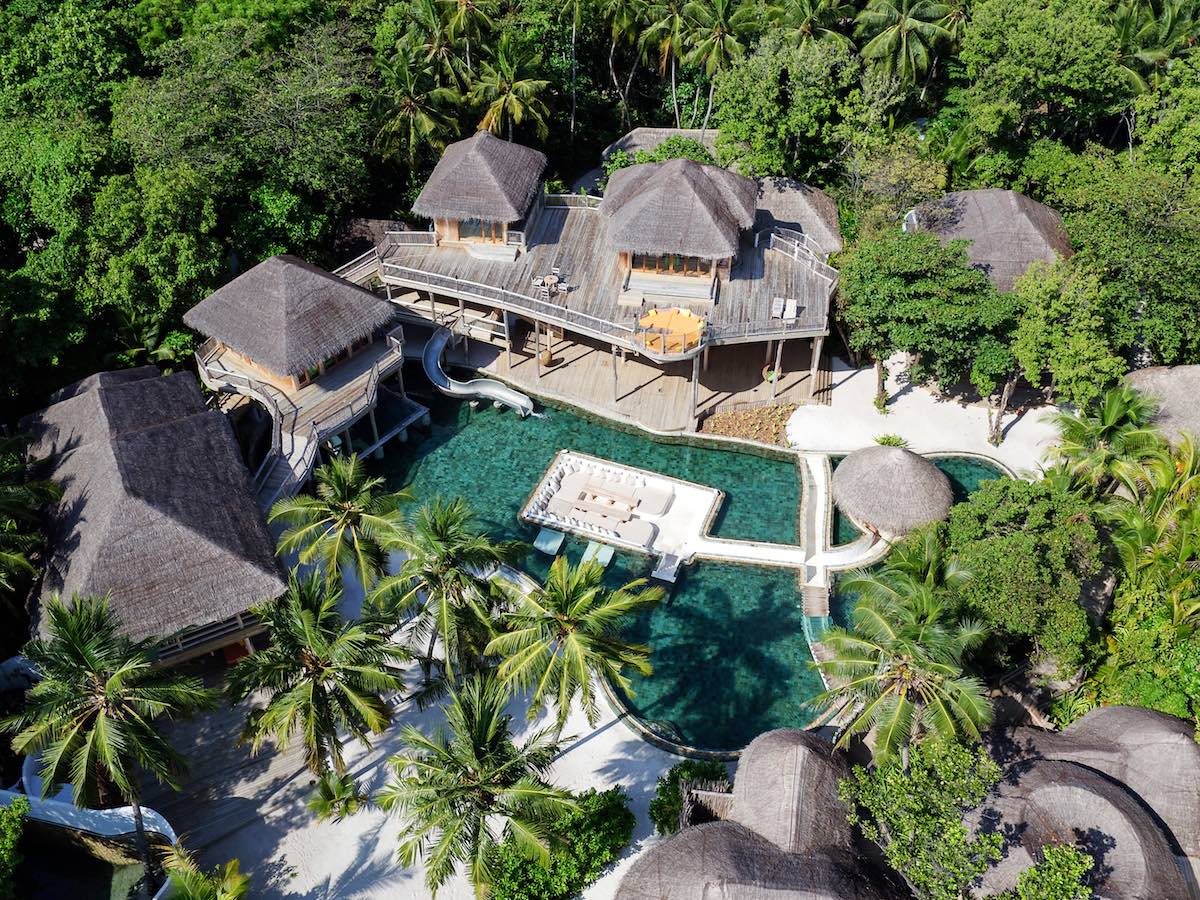 Do you have any plans for expansion in future?
We are planning to add two more resorts in The Maldives. We also plan to open a Soneva in Okinawa, Japan, in about three years, where it will be a resort with spa and residences like Soneva Fushi and Soneva Jani. There is one more thing that I am excited about, Soneva Soul. It will be a resort with a wellness concept. With Six Senses, we operated many spas that were more for healthy people. At Soneva Soul, we want to place more emphasis on the medical aspect. Our new Soneva Fushi Water Retreats are almost finished and will be ready to open in July. These will be the first water villas at Soneva Fushi and are being launched as part of our 25 year anniversary celebrations.
We are also continuing with our plans to add more villas to Soneva Jani, and open new dining concepts at all of our resorts. Soon we will also be launching a new sustainable experience programme across Soneva Fushi, Soneva Jani and Soneva Kiri.
With sustainable travel at the forefront of many people's minds as they plan their next holiday, how does Soneva stand out?
Soneva distinguishes itself because we are about space, privacy and showing how sustainable materials can have a great aesthetic. We believe in bringing out the beauty of nature and this sets us apart. "Intelligent Luxury" is about combining the traditional opposites of sustainability and wellness with luxury. We believe that these things actually complement each other. We deliver wellness from a mental health point of view. When we live in our urban boxes, we start to believe that a few neighborhoods of Manhattan or Mayfair are all that there is in the universe, but the reality is there are more planets in the sky than there are flecks of sand on all the beaches of the earth. Our philosophy of "Intelligent Luxury" is about understanding what true luxury is for our guests today. The wealthy of today come from a different context to the wealthy of the past when some of the more traditional luxuries were established. For guests who live in a cramped and polluted concrete jungle it is a true luxury to eat a freshly picked salad grown in our organic garden while breathing fresh air and enjoying a beautiful view.
Such an experience is rare in the modern world and combined with the space, privacy and comfort of our villas and rooms and the intuitive service provided by our Hosts, we create Intelligent Luxury. It is about understanding the daily lives of our guests and offering them experiences that are both new - in that they are rare, unusual and exceptional to our guests but at the same time true in that they are highly desired and cherished by our guests.
At our resorts, we insist that one does not have to destroy the planet or their body in order to indulge in luxury. When guests arrive at our resorts, we take their shoes and put them in a bag. Having no shoes and no news is very healthy and grounding. A lot of our competitors apply a dress code, whereas at Soneva, you don't have to wear shoes or trousers anywhere. Not only does that distinguish us from other places, but it allows our guest to feel at home without the worries and obligations of their everyday lives. In our concept of luxury, a fresh salad from our organic garden becomes more appealing than a Mouton Rothschild and is certainly healthier. Open air cinemas, an observatory and outdoor showers are all things that urban dwellers, however wealthy they may be, are deprived of.
Our bathrooms may not have marble or gold taps, but our guests can take a shower while gazing at a full moon. When it's not raining, all of our guests dine outside. One restaurant is actually in the trees, with a cable car for guests and a zip wire for our waiters to service tables. Also, we do not serve imported water. Instead, our water menu offers six kinds of purified water, each with a different healing crystal in it.
What would like to see in the future for travel?
We have seen dramatic changes to hospitality over the past 20 years; I believe that we will experience a similar, if not faster, rate of change over the next 20 years and that current trends will continue to accelerate. Let me elaborate - over the last 20 years we have seen a rapid distribution of wealth where historically the wealthy were the landed gentry enjoying their private stately homes to today where a majority of wealth is held by the urban elite living in cities in an ever faster changing world. This process of urbanization means that values such as healthy lifestyle, good design etc. will continue to be important. I do foresee significant improvements in sustainability. The built environment accounts for 40% of global warming gases. The technology today exists to reduce this negative impact by 80%. Apart from being good for the ecology and society, these innovations will also make good economic sense.
So, we should expect huge reductions in energy consumption from hotels and considerably more thought on sustainability; whether it is more responsible purchasing, more thought with regard to energy and waste management and the reduction of unnecessary waste etc. etc. Another demographic shift is that technology means less need for business travel. Urban hotels in prime first tier capitals will go from being corporate orientated to becoming an urban oasis and a nucleus of urban living and all that makes living in the communities worthwhile.
Furthermore, the needs of our guests have evolved from luxury to meta-luxury. It is no longer about owning luxury items that indicate status like premium whisky, luxury watches, and the latest It bag. Owning status no longer satisfies high net worth individuals. They have an increasing thirst for knowledge and learning. They seek discretion, special access and even surprise. They want meaning, authenticity and connection. Meta-luxury is about authentic conviction, experience, focus and depth, discovery and knowledge; and understanding the industry is yearning for authentic experiences. With climate change and its effects so apparent, the world is striving for real experiences. Living in the moment is everything. To do that you need to experience. When guests go on holiday, we don't want them to watch television or do the same thing they do at home – we want them to escape, to dream, to feel. For that, you need to experience. I am certain this trend will continue and perhaps become even more radical. Also, the crisis that we are all going through now has allowed many people the opportunity to pause and rethink their values and importantly their priorities. I suspect that travellers will become more health focused, more aware of nature and more sensitive to the challenges of the planet.
Get in touch to find out more about Soneva Luxury Resorts >