One of the Seychelles most pristine coral islands, Denis is a stunning private oasis in the Indian Ocean, perfect for families looking to relax and explore unbridled nature together.
Guests are encouraged to completely switch off from the world beyond Denis and embrace the secluded nature of an island escape – don't expect phone signal, tv or in-room internet. Denis is a place to engage with nature and connect with the people you are sharing this paradise with. For those keen to indulge in plenty of pampering treatments during a stay – opt for the Beachfront Spa Cottage with its own spa pavilion – the spa uses only local ingredients in natural beauty therapies.
Relax on white sand beaches, swim in clear turquoise waters, snorkel over reefs teaming with colourful tropical fish, kayak or paddle board across a calm lagoon (gear is all provided), and look out for ancient sea turtles wading through the shallows. There is plenty to discover inland - follow nature trails across the island by foot or bicycle, spot rare birdlife and enjoy breathtaking island and ocean scenery.
Scuba diving in the waters surrounding Denis is spectacular – an expert team arrange lessons and courses for those keen to explore the mysterious depths of the ocean. Catch-and-release sport fishing is also a fantastic experience, travelling by boat to the edge of the continental ocean drop-off.
25 cottages and villas are scattered within easy walking distance of the beach, immersed in nature and island greenery. Each space is stylishly appointed, with en-suite open-air bathrooms, garden courtyards, beautifully furnished verandas and comfy sitting areas.
A number of villas are sea-facing with private beachfronts and some enjoy private plunge pools and elegant day beds. The Family Cottage takes 2 adults and 3 children with a private shaded dining area, so it's perfect for staying all together with plenty of space on a family escape.
Along with being a family friendly island, there are lots of private, secluded spaces and romantic settings on Denis for couples to enjoy time alone. The island chapel is simply stunning and makes Denis a wonderful option for an intimate wedding or anniversary celebration, particularly if you're looking to hire out the entire island exclusively.
One of the true luxuries of staying on Denis Private Island is dining on delicious, healthy, natural food and being treated to exceptional culinary creativity. Food is grown and harvested on the island farm within a few hundred metres of where guests will then enjoy it.
An international team creates an incredible, diverse menu of Creole and international fare, sourcing milk, yogurt and cheese from the island cattle, delicious pork and poultry reared onsite and fresh fish caught nearby in the Indian Ocean – it doesn't come more 'farm fresh' than this.
Expect hearty breakfasts enjoyed leisurely on private verandas, generous buffet-lunches and sophisticated evening dinners with tasting menus and wine pairings.
Sustainability is at the heart of the island's operation, with a lumber mill and carpentry workshop producing floorings and furniture for the cottages and restaurant, and local materials used whenever possible to reduce carbon footprint.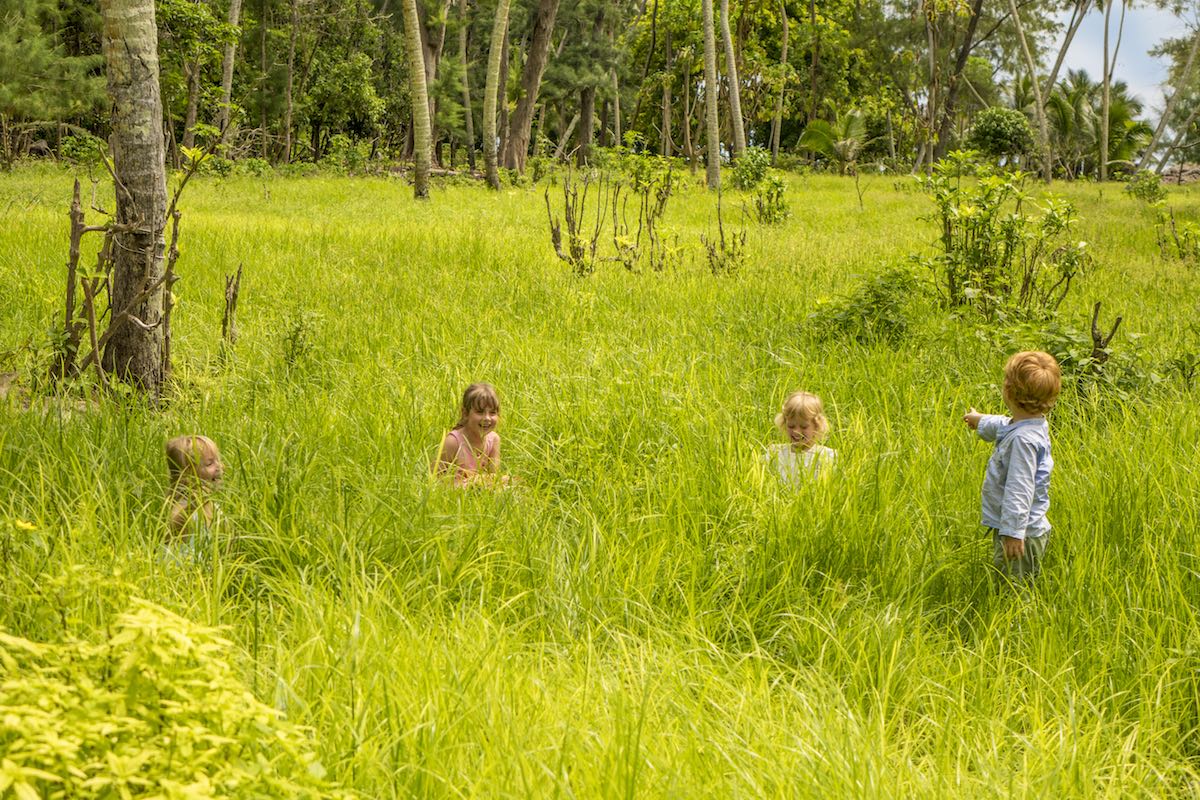 A local NGO, The Green Islands Foundation, has an outpost on the island running a variety of conservation programmes that guests can learn about and get involved in if desired. Ongoing projects include the restoration of native forest habitats and the rearing of giant land tortoises. The island's shoreline is protected and guests can explore with the rangers to watch Hawksbill and Green Turtles laying their eggs on the sand.
Get in touch to book your stay >