Cape Grace enjoys a prime position on its own private quay between the Victoria & Albert Waterfront and yacht marina in Cape Town. Views take in the shimmering water of the harbour and the backdrop of striking mountain scenery, tinged with a glorious orange hue at sunset.
Rooms are individually designed to tell their own story, exquisitely decorated with local paintings and sculptures, Cape Dutch antique furniture and rare fabrics, always filled with fresh flowers. The elegant spaces of Cape Grace, coupled with a personable team of staff, make this a wonderful home from home on a journey through South Africa.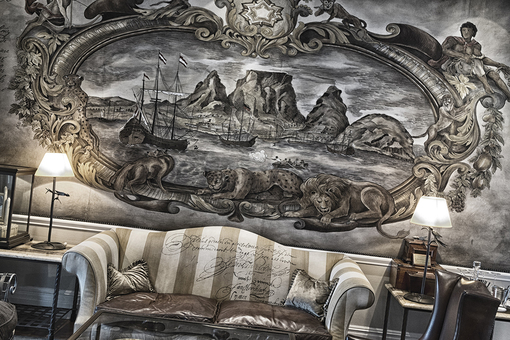 I particularly love the original, handcrafted experiences that the Cape Grace team create for every guest. Whether a spectacular tasting menu to enjoy some of the finest foods and wines from the region, luxurious spa treatments to ensure you're relaxed from the moment you arrive, or an indulgent Afternoon Tea in the sumptuous Signal restaurant, every day guests enjoy tailor-made treats, making a stay a rather spoiling affair.
An elegant dinner or tasting menu at Signal is a must, dining amidst twinkling crystal chandeliers, sumptuous silk furnishings, crisp white linens and floor-to-ceiling glass doors and mirrors. Executive Chef, Malika van Reenen's menu offers contemporary cuisine and local delicacies, such as seafood curries and ostrich steak, accompanied by an extensive wine list. A knowledgeable sommelier is on hand to pair delicious wines with every dish. Whisky and wine tasting at the fashionable Bascule Bar is also a great experience for those keen to learn a little more in a fun environment.
Whilst there is plenty to explore in Cape Town and guests enjoy complimentary local transfers, it is worth enjoying the offerings within the hotel, such as the hot-spa, Cape wine experiences, and the more old-school, but still thoroughly popular, port & sherry o'clock, every evening in the library. For VIK's (Very Important Kids), a lovely team of child minders arrange African story time and other activities, as well as a children's menu room-service and movie night, to allow parents to go out for a special dinner a deux whilst the kids are being well looked after.
Whenever I fly long haul I like to treat myself to a rejuvenating spa session on arrival to feel refreshed and get straight into the swing of things. Cape Grace specialises in Kalahari Signature Massages with healing scrubs and oils, which I highly recommend, but the entire menu of treatments is fabulous, from deluxe Mani-Pedis to hair treatments, and hotel guests enjoy exclusive access to a fitness studio and heated pool.
Get in touch to book your stay >